Configuration editor UI has been updated for new Pi4 dual screen features
For a Pi4, the screen resolution settings now look a bit different than before. You can now not only select a video mode, but also select how and if you want to handle multiple screens. Right now there's 6 different modes: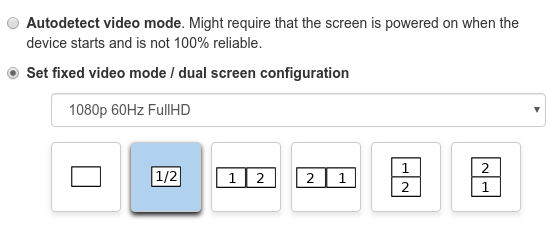 Single screen (like before on earlier Pis)
Cloned output. So two screens showing the same content
4 different arrangements of both screens next to each other.
Right now the UI only allows the same resolution on both screens. Additionally, you can't freely place the screens, which might be interesting if they don't have the same size. That might be added in the future though as the system already supports that.
Update: Of course that now means that dual screen video playback is now possible with a single Pi4. Have a look at this quickly created video showing this feature in action. Right now it's still limited to H264 and thus 1920x1080 (or most likely something like 1920x540) for videos like the one below, but once H265 support is done, you'll be able to use 3840x1080 for example.