TL;DR: Do not purchase the display if you intend to use it in a vertical orientation (unless you're willing to deep dive into modifying the display hardware itself)!
The Frame (QE32LS03T) is a display manufactured by Samsung. Its artsy presentation makes it seem great for digital signage. Unfortunately there's a major issue when trying to use the display in vertical mode: The display automatically rotates the content which makes it impossible to play 9:16 vertical content.
Here's what one of info-beamer's customers set up: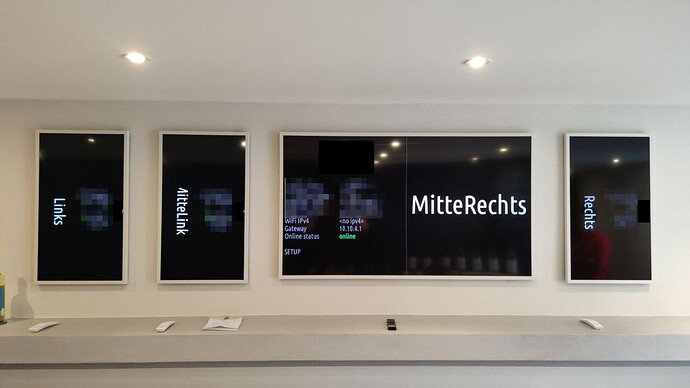 The issue is that the three vertically oriented displays cannot correctly fill the complete screen. As an example: The Pi connected to the right display produces a 1920x1080 FullHD HDMI signal. The generated output on the Pi looks like this: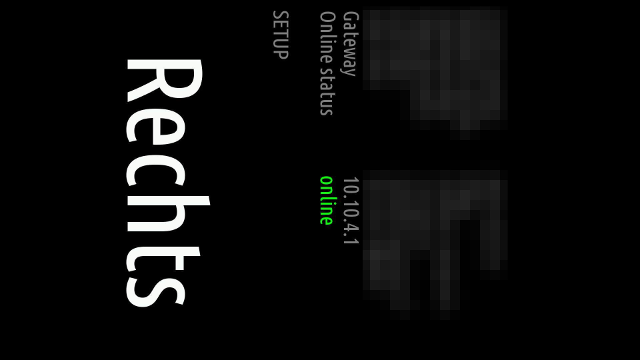 Unfortunately the display automatically rotates this HDMI signal based on its physical orientation. I guess there's a sensor similar to the one in this demo somewhere. Basically the received HDMI signal is rotated to always stay horizontal. Of course the 1920x1080 HDMI signal then only fills a small part of the available display space with the remaining area being black/unused: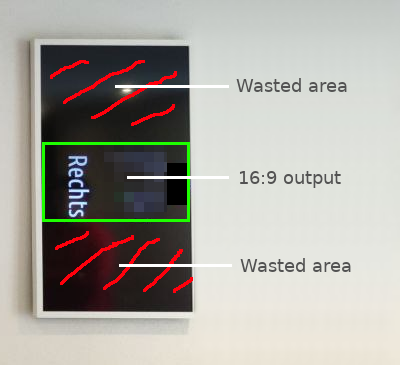 What's remarkably stupid is that there doesn't seem to any way to disable this magic rotation feature. I'm not sure what Samsung has been thinking. One might even conclude that they intentionally messed up any vertical output to ensure the built-in "Art Store" subscription service is the only way to use the display in vertical mode. Happy to hear any other reasonable explanation.
One way to work around this could be to send a 1080x1920 HDMI signal. This should then fit into the rotated display. We tried the following custom config setting:
hdmi_timings=1080 0 18 16 48 1920 0 8 16 10 0 0 0 60 0 136000000 1
hdmi_group=2
hdmi_mode=87
hdmi_ignore_edid=0xa5000080
hdmi_cvt 1080 1920 60
max_framebuffer_width=1080
max_framebuffer_height=1920

On the device detail page it seems like the device correctly outputs the 1080x1920 video signal:

Unfortunately the display wasn't happy with that. It even displayed the corresponding error screen in the rotated version that doesn't fill the screen: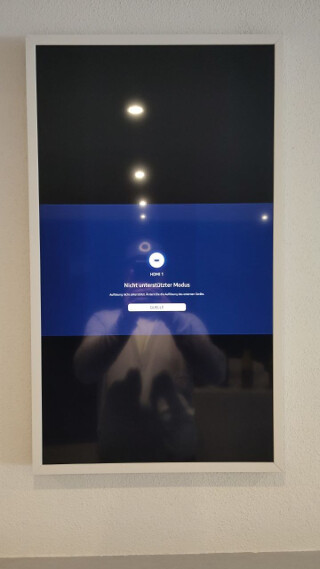 It's really difficult to imagine how Samsung produced such a display without the option to disable their magic rotation feature. There's tons of complains regarding this issue:
And one Samsungs community discussion (another one seems to have been removed/censored):
https://us.community.samsung.com/t5/QLED-and-The-Frame/32-Frame-TV-How-to-turn-off-auto-rotate-for-HDMI-source-portrait/td-p/1903409/

I had this same issue and tried all sorts of tricks. I ended up returning the TV out of frustration. Too bad the TV does not have feature to disable the auto rotate.

This TV is advertised as being able to rotate! That is the ONLY reason I bought it… it is ridiculous that people are unable to turn off the auto rotate feature. Is it possible to add this options in the menu?

It's silly that a TV that doesn't have a rotation sensor would actually work better. What's the purpose of rotating the TV when most content displays huge black bars? […]
Happy to add to this post if there is a viable solution. Until then: Do not purchase this display for vertical playback!