Hi all,
I'm new to Info-Beamer, new to LUA, and new(ish) to digital signage. I am not new to programming; I've been programming, including production programming since I was nine, more than sixty years ago. I've been doing relatively well sorting through several pacakges. In particular, thanks to @infobeamer-fw for pointing me towards package-food-menu as a starting point for a restaurant signage system.
With minimal and easy modifications I've been able to get to this point, which is enough for a proof-of-concept demo to a client.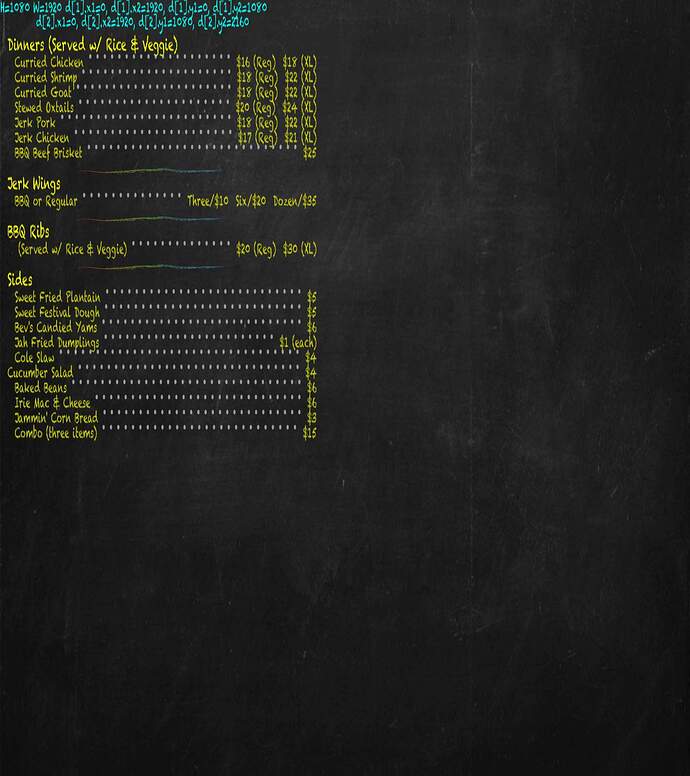 At this point things are starting to become a bit more challenging as I am just starting to program in LUA (I'm mostly a C++ kind of guy), and I'm trying to understand several things about LUA as implemented in IB.
Which version of LUA is IB based on? It seems that 5.4 is a major revision with many new features and constructs.
Is the IB LUA implementation a subset of the full language? I've been trying to write to an external file and all my attempts have hit a wall, leaving me with, at best, a partial screen, which so far seems to be my only clue as to where the error lies. I'm using "Programming in LUA, Fourth Edition" as as my text and reference. It seems excellent, but at over 300 pages I'd like to know if there are large sections (e.g., IO?) that can be ignored since they are unavailable under IB.
What are people using for debugging? As I mentioned above, my attempts to write debugging output to a file have been of little help, mostly crashing the package as soon as I try to do any IO.
Are there any example packages available that show either how to interface with external files or other useful system facilities on the IB Hosted platform or IB Pi?
I'm playing a bit with the IP Pi software, which has good and bad aspects. On the one hand it gets me closer to being able to observe packages in action (ssh in from my laptop, running info-beamer from a command line and observing the two attached screens. Also, coming from backgrounds in high-dollar value wholesale bond brokerage and real-time rail transportaion systems I like the idea of not being dependent on an external infrastructure out of my control. On the other hand I find using the Pi version a bit of a bear so far. Hosted gives me so much that I think I'll have to construct and maintain myself if I go to production with Info-Beamer Pi.
If you've gotten this far, thanks much for your time and attention.
Jim Siler
Maine, USA